Athiya Shetty Wishes KL Rahul Happy Birthday: KL Rahul has made a different place in the whole world on the strength of his bat. He is celebrating his birthday today (on 18 April). KL Rahul is famous for his classic batting. Athiya Shetty has wished him on his birthday, on which KL Rahul has given his reaction.
Athiya Shetty wishes
Athiya Shetty has shared many pictures with KL Rahul from her Instagram account. Athiya Shetty and Rahul (KL Rahul) are looking very good in black and white photos. In the message, Athiya Shetty has written that 'Anywhere with you, Happy Birthday'. KL Rahul and Athiya Shetty are dating each other for a long time. Now the relationship of both is open. Athiya Shetty is also seen cheering for Rahul at the stadium.
KL Rahul gave this reaction
KL Rahul has commented on the photos shared by Athiya Shetty. He wrote, 'Love you'. Athiya has shared three photos with Rahul. In the first photo, Athiya can be seen hugging Rahul. In the second photo, both are seen walking on the paths made in the middle of the forest. In the third photo, KL Rahul and Athiya Shetty are seen close to each other. A very good bonding is seen between the two in these photos.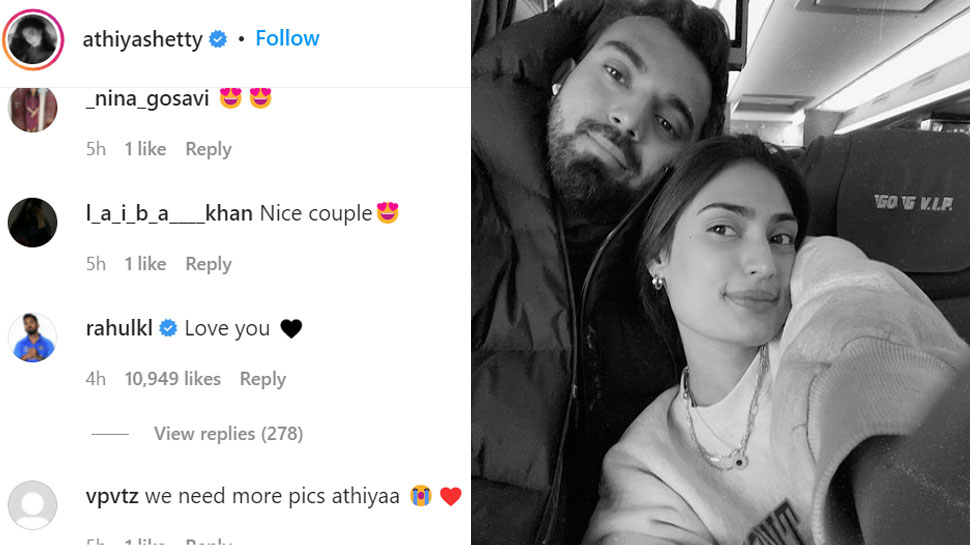 century in IPL
KL Rahul is running in very good form. He is the captain of Lucknow Super Giants in IPL 2022. The Lucknow Super Giants team is performing very well under the leadership of Rahul. KL Rahul is scoring a lot of runs in IPL 2022. He scored a scintillating century against Mumbai Indians. Rahul played an innings of 103 runs in 60 balls. He is the vice-captain of Team India in limited overs cricket.