New Delhi. In IPL 2021, Mangavalar kept alive the hopes of reaching the playoffs by registering a win against Rajasthan Royals (MI vs RR) by Mumbai Indians. Mumbai achieved the target of 91 runs for victory in 8.2 overs. Now Mumbai remains in the race with Kolkata Knight Riders (KKR) for the fourth place in the playoffs with 12 points from 13 matches. KKR is at the fourth position on the basis of run rate while Mumbai is in fifth place after this win. Both have to play one more match each. Kolkata's next match is with Rajasthan Royals while Mumbai's last encounter will be with Sunrisers Hyderabad. Delhi Capitals, Chennai Super Kings and Royal Challengers Bangalore have reached the playoffs.
After beating Rajasthan Royals by eight wickets with more than ten overs to spare, Mumbai Indians captain Rohit Sharma said that his team had come out with the intention of winning the match in this fashion keeping in mind the better run-rate. Regarding the expectations, he said, "All the teams have been able to beat each other. The good thing is that KKR is playing before us so we will know what to do."
Rajasthan Royals have defeated KKR in the first leg of IPL
In the 14th season of the IPL, Rajasthan Royals has won 5 times in 13 matches while losing 8 times. Despite this, the Royals can become a threat to KKR. In the first leg of IPL, Rajasthan defeated KKR by six wickets. In the match played at Wankhede Stadium in Mumbai, KKR, batting first, scored 133 runs in 20 overs for the loss of 9 wickets. Rajasthan achieved this target for the loss of four wickets, thanks to an unbeaten 42 by captain Sanju Samson.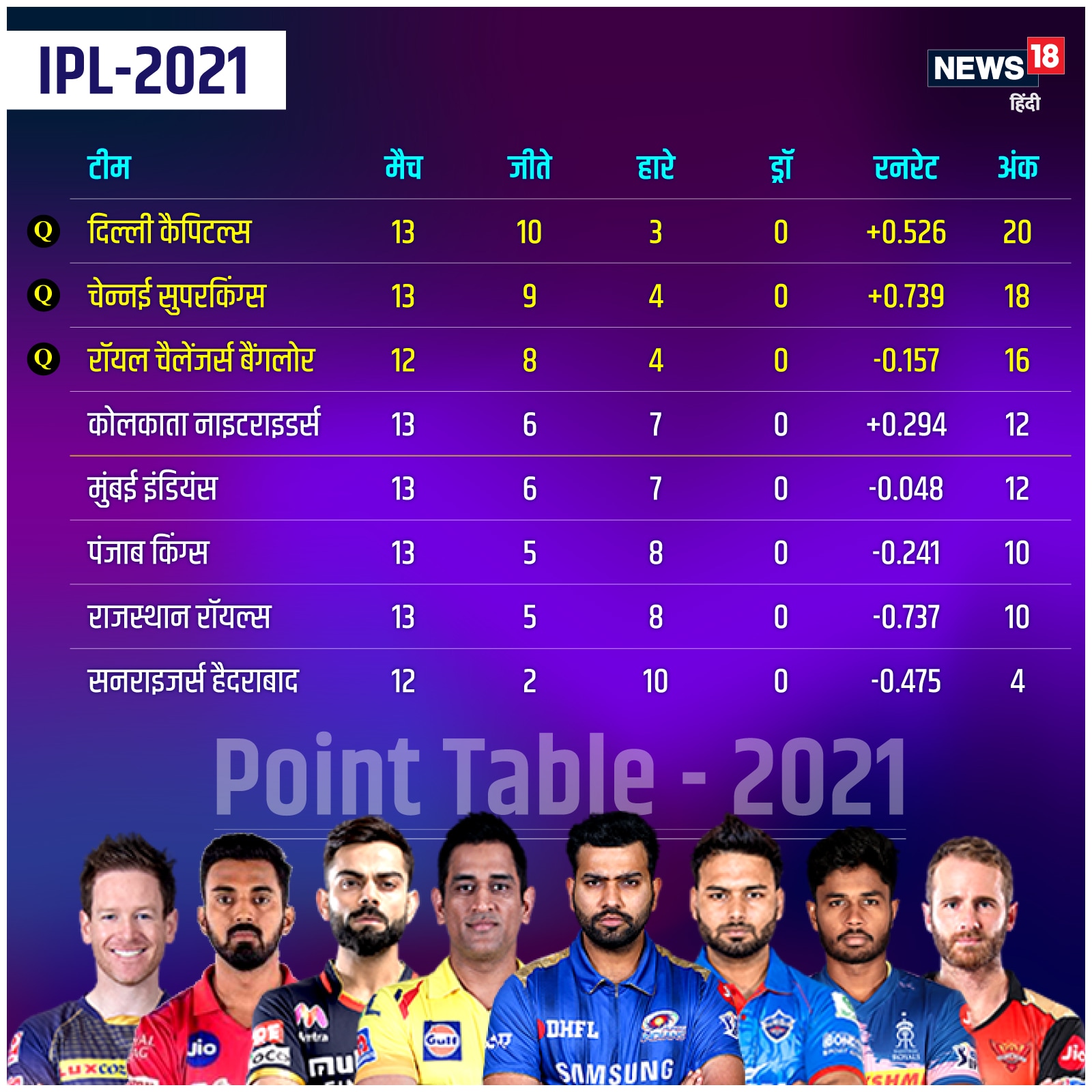 Mumbai faces the weakest team Hyderabad
Mumbai has to face Hyderabad in the last match, which is at the bottom of the IPL points table. Hyderabad has lost 10 out of 12 matches this season. In the last few matches in the team, a lot of reshuffle has been given to the young players. Looking at the performance of Hyderabad, it does not seem that it will be able to compete with Mumbai Indians.
Read also:
Today's anecdote: When Sachin Brigade defeated Dravid's team and then both together said goodbye to T20
Virat Kohli would be happy with the victory of Mumbai Indians in IPL, know what is the connection of this happiness
If both Mumbai and Kolkata win their last match, then the selection for the fourth place in the playoffs will be based on the run-rate. Right now the run rate of KKR (+0.294) is better than Mumbai (-0.048). Mumbai will have to pay attention to the run rate as well as defeating Hyderabad.
Read Hindi News see more online Live TV News18 Hindi website. Know related to country and abroad and your state, Bollywood, sports world, business News in Hindi.