BCCI News: The Board of Control for Cricket in India (BCCI) is the richest sports body in the country. The BCCI earns billions of rupees only from the IPL Cricket League. Still this organization does not pay tax. BCCI has been kept out of the purview of tax. However, in the matter of tax, the BCCI has to fight a legal battle as well.
The BCCI argues that since it is promoting sports, especially cricket, in the country, there is no tax liability on it.
BCCI has got a big victory against the tax department. The Income Tax Appellate Tribunal (ITAT) has upheld the BCCI's contention that even though it is earning money through the IPL, its purpose is to promote cricket. Therefore, the income earned from this tournament comes under the purview of income tax exemption. ITAT has ruled in favor of BCCI justifying its argument.
The tax department had issued notices to the BCCI in 2016-17. In these notices, the BCCI was asked why the exemption under Section 12A of the Income Tax Act on the earnings from the IPL should not be removed.
Against this notice of the tax department, the BCCI had approached the Income Tax Appellate Tribunal (ITAT).
The Income Tax Department said that there is entertainment in IPL and entertainment related activities come under the purview of business.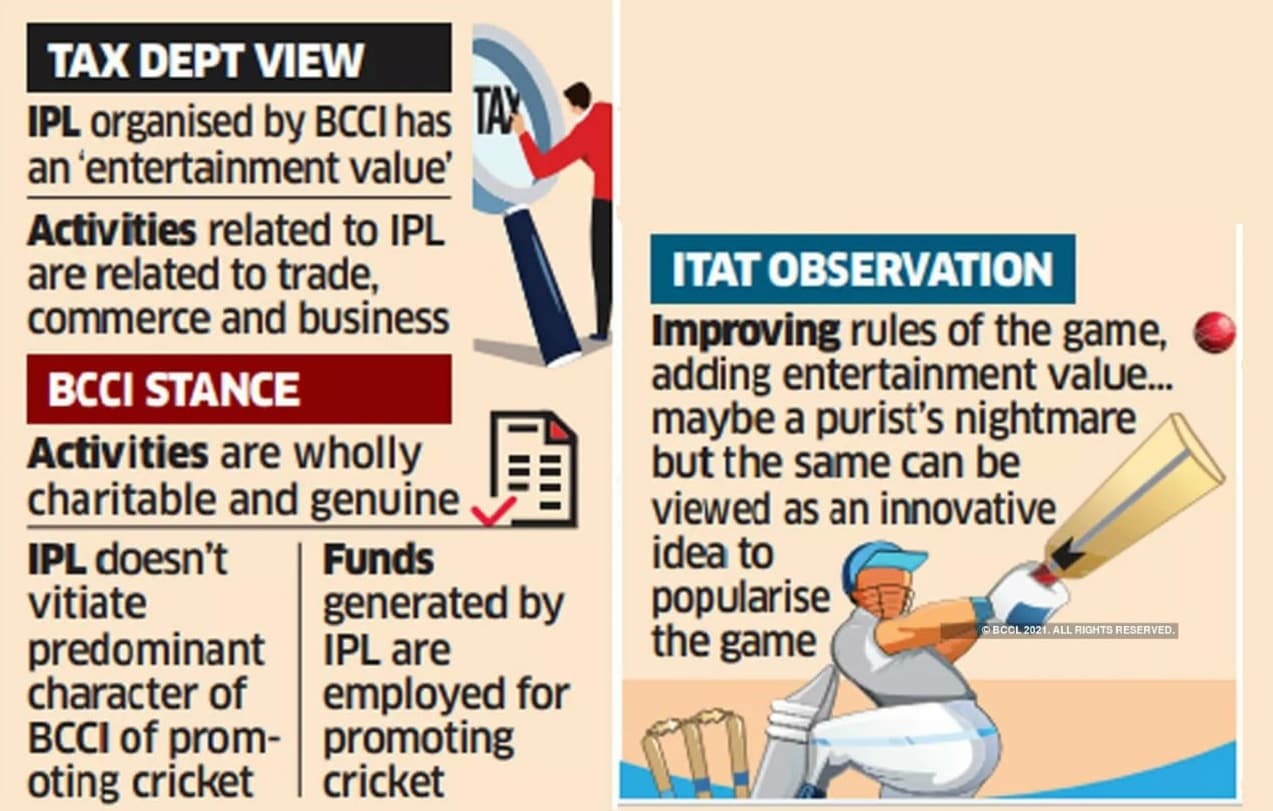 On this, the BCCI said that its activities are completely related to social welfare. The board's real motive is to promote cricket and IPL is also a medium to promote the game. The money coming from IPL is spent on the promotion of cricket.
The hearing on this matter was going on for a long time. Now after studying all the arguments, ITAT has rejected the argument of the tax department and has upheld the argument of BCCI.
The Income Tax Appellate Tribunal, after hearing the arguments of both the sides, said that if a sporting event is made in such a way that it can make the game more popular and more sponsors and resources are being mobilized from it, then it will lead to cricket. There is no effect on the basic spirit and activities of popularization.
Judicial member of the tribunal, Ravish Sood and vice-president Pramod Kumar said that after all, the Board of Control for Cricket is working only to popularize cricket by making better use of its capabilities, better management and resources.
effect of judgment
On this decision of ITAT, tax experts say that this decision of the tribunal opens the way for other trusts. Taking this decision as the basis, other trusts should also adopt this path.
Read Hindi News see more online Live TV News18 Hindi website. Know related to country and abroad and your state, Bollywood, sports world, business News in Hindi,