Mumbai. Ajinkya Rahane and Ishant Sharma, who have been going through a bad rhythm in the Indian Test team for a long time, were respectfully dropped from the playing XI of the second test match against New Zealand (India vs New Zealand). Did the team management resort to 'injury' to do so? On Friday, the first day of the match, the BCCI officially announced that Rahane, Ishant and Ravindra Jadeja will be out of the team due to various types of injuries.
BCCI said that Ajinkya Rahane hamstring (muscle) strain, which vs New Zealand Between came during fielding on the last day of the first Test in Kanpur. If he has not been able to recover completely, then he will not play the second Test. The Kanpur Test was played till November 29 and Rahane was on the field for the entire 90 overs of the day. A hamstring injury is painful and affects the flexibility of the body.
The Indian team did indoor practice at the Bandra Kurla complex on Thursday and the official social media handle of BCCI released a picture of Rahane practicing batting with a big smile on his face.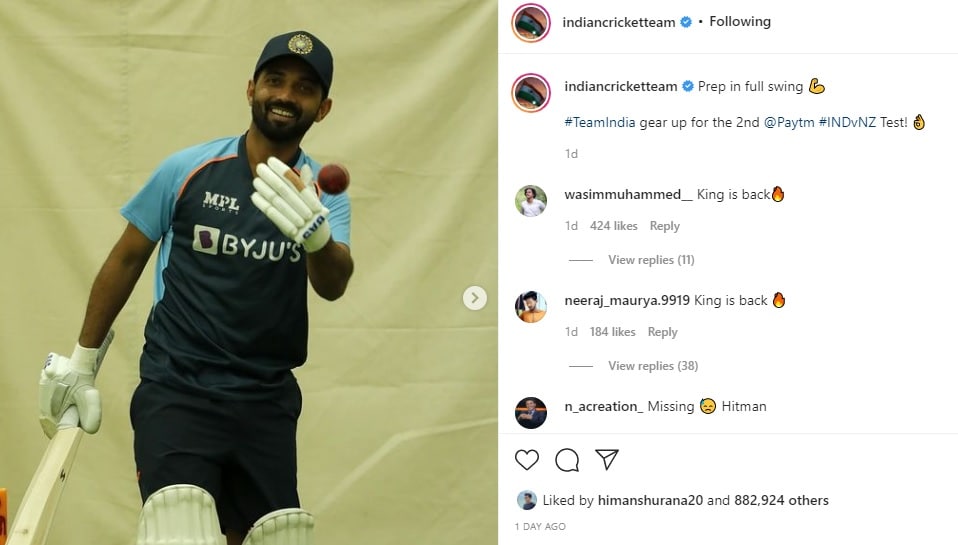 There was no expression of pain on his face. He was also seen doing fielding practice on Friday morning. When PTI-language asked a state team physio about hamstring strain, he said, "Hamstring strain depends on the level of injury and if it is the first level then you need at least two weeks of rest." Will be. If it is of the second stage then it will require at least four to six weeks. Its minor injury can be recovered by just taking rest.
IND vs NZ: 132-year-old record repeated as soon as Virat Kohli took over the captaincy in Mumbai Test, know how
IND vs NZ: Wrong out given to Virat Kohli? 'Injustice' happened as soon as he returned to the field! View VIDEO
Although it was difficult for the team to drop a player who had captained the previous match, they had to find some respectable way for the veteran of 80 Test matches. Similar is the case with Ishant. On the last day of the first Test in Kanpur, he suffered an injury to the little finger of his left hand. Usually the CT scan or MRI report is received immediately and the team is in Mumbai for the last 72 hours. Even if Ishant can regain his place in the team, but whether he will be able to make it to the playing in the presence of Jasprit Bumrah, Mohammed Shami, Umesh Yadav, Mohammad Siraj, Pranandik Krishna and Avesh Khan is a big question.
Read Hindi News see more online Live TV News18 Hindi website. Know related to country and abroad and your state, Bollywood, sports world, business News in Hindi, Us Facebook, Twitter, Instagram And Telegram Follow on.
Tags: Ajinkya Rahane, BCCI, Cricket news, IND vs NZ, IND vs NZ 2021, India vs new zealand, India vs New Zealand 2021, Ishant Sharma, Virat Kohli