Dubai. On Monday, Delhi Capitals defeated Chennai Super Kings in a match of IPL 2021. But in the last over of Delhi's innings, former Indian cricketer Sunil Gavaskar questioned and criticized the T20 umpire for giving a ball wide instead of a no-ball. But commentator Harsha Bhogle justified the umpire's decision citing MCC rules.
During the match, the second ball of the 20th over was bowled by CSK fast bowler Dwayne Bravo outside the off-stump. The ball was off the pitch. In such a situation, the players of Delhi Capitals took one run off the ball while one run was found as wide. But Gavaskar said that it should have been a no-ball, so that the batsman would get the next ball as a free-fit. Such decisions can change the result of the match.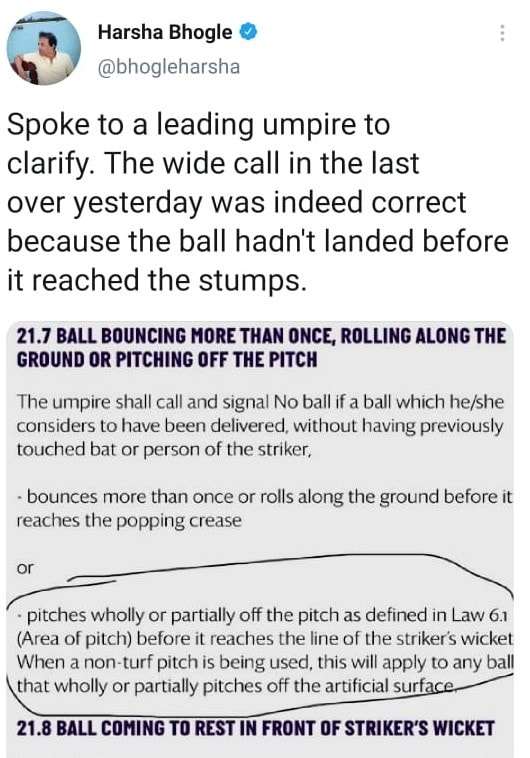 Harsha Bhogle's tweet.
right decision as per rule
Harsha Bhagle wrote on social media, 'I spoke to a big umpire to clarify these things. In fact yesterday's decision of wide was the right one as the ball didn't land before reaching the stumps. He also put a copy of the rules of the Marylebone Cricket Club (MCC), the law-making body of cricket. According to this, a ball that falls completely or partially outside the pitch during batting is given a no-ball. But Bravo's ball went behind the wicket without a tap. For this reason he was given a wide ball under the rule.
Also read: IPL 2021: Another umpiring controversy, Sunil Gavaskar lashed out at TV umpire
With the win, Delhi's team reached the top
Delhi won this match by 3 wickets in the last over. Delhi has 20 points from 10 wins. The team has reached the top of the points table. At the same time, Chennai Super Kings have 9 wins in 13 matches and they have 18 points. The team is in second place. Royal Challengers Bangalore are at the third place in the points table with 16 points with 8 wins from 12 matches.
Read Hindi News see more online Live TV News18 Hindi website. Know related to country and abroad and your state, Bollywood, sports world, business News in Hindi.