New Delhi. The excitement has increased in the 14th season of the Indian Premier League (IPL 2021). Actually, after the double header on Saturday, now 4 teams have equal 10 points. Chasing 190, Rajasthan Royals beat Chennai Super Kings (RR vs CSK) by 7 wickets while defending runners-up Delhi Capitals beat record 5-time champions Mumbai Indians (MI vs DC) by 4 wickets in Sharjah Overcame.
In the current IPL points table, now 4 teams have equal 10 points. Chennai Super Kings and Delhi Capitals have already booked the playoff tickets, which are at number one and second place respectively. At number three is the team led by Virat Kohli, RCB, which has 14 points from 11 matches. Kolkata at number four, Punjab on 5th, Rajasthan at sixth and Mumbai Indians on 7th have 10 points. These four teams have won 5-5 matches out of 12. Former champion Hyderabad team is already out of the race for the playoffs.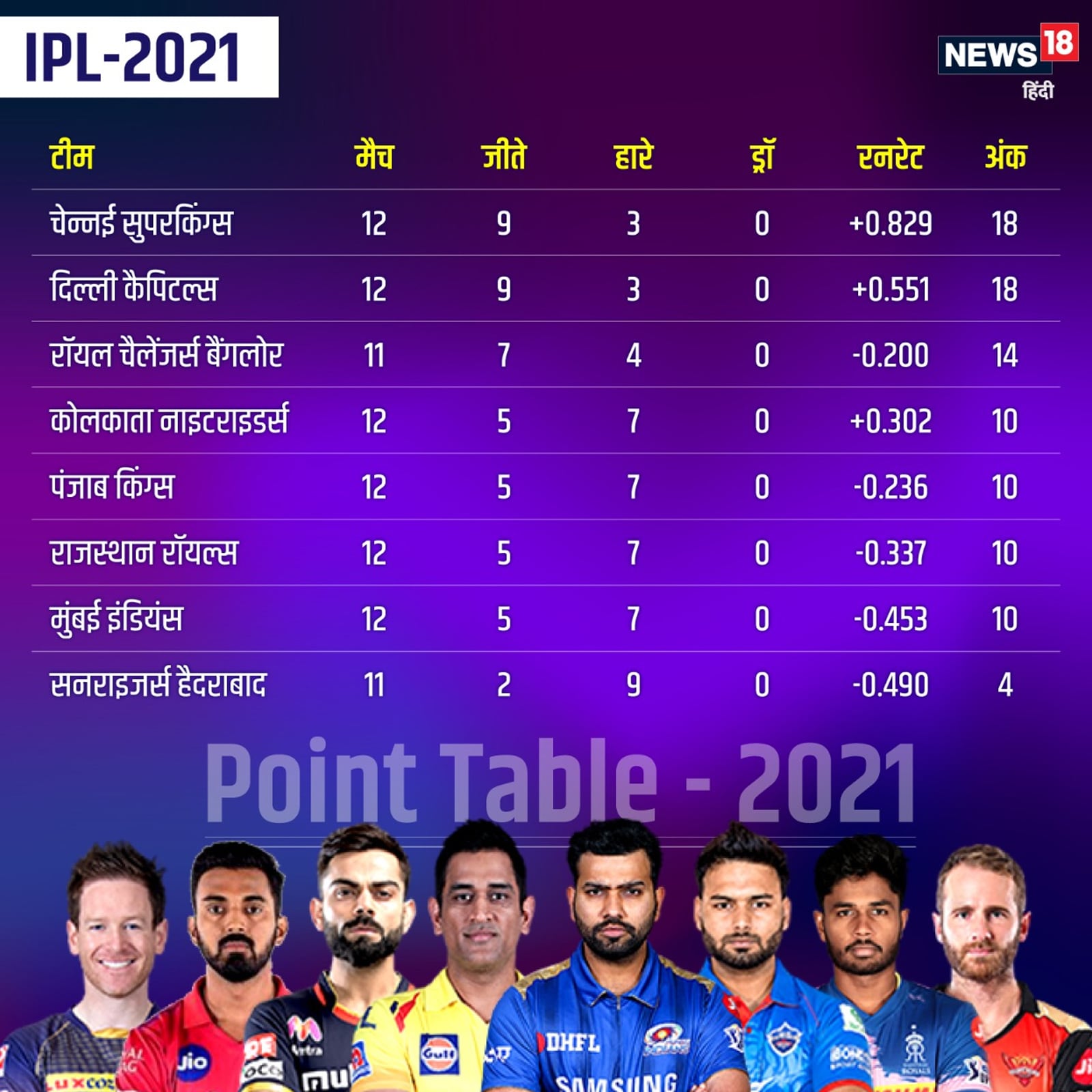 Current points table of IPL-2021
Now on October 3, there is a clash between RCB and Punjab. If Bangalore wins in this match then they will get 16 points and they will qualify for playoff but if Punjab wins then they will also be in top-4 with 12 points. At the same time, Kolkata will clash with Hyderabad. In such a situation, the Hyderabad team can spoil the game of Kolkata because the team led by Kane Williamson is already out. Delhi and Chennai will clash on October 4 and their win or loss will not make any difference as both have already booked the playoff tickets.
Mumbai and Rajasthan will face each other in the match to be held in Sharjah on October 5. In such a situation, the team that loses, its playoff hopes will almost be over. At the same time, Hyderabad in Abu Dhabi can spoil Bangalore's game on 6 October. Then there will be double headers on 7th and 8th October. Chennai and Punjab will face each other in Dubai, while Rajasthan and Kolkata will clash in Sharjah. Then Hyderabad and Mumbai will clash in Abu Dhabi in the evening while Bangalore and Delhi will face at the same time in Dubai.
Read Hindi News see more online Live TV News18 Hindi website. Know related to country and abroad and your state, Bollywood, sports world, business News in Hindi.