New Delhi. Be it sports or history, it definitely repeats itself. Just look at the game and history of KKR. In IPL 2020 (IPL 2021), this team changed its captain only after being out of form. Dinesh Karthik became the victim of this big and tough decision. It is said that there are three paths of Dhak. Years changed, luck didn't. Now the performance of KKR captain Eoin Morgan in IPL 2021 is so bad that he does not even deserve a place in the playing XI. It is a matter of relief that KKR is still involved in the race for the playoffs (IPL 2021 playoffs). Would this team be able to grow without inspiring leadership? Isn't the time for KKR (Kolkata Knight Riders) to rest Eoin Morgan? Isn't it time for Eoin Morgan to step down as captain to create opportunities for the team? After all, there have been many captains in the IPL, from Gautam Gambhir, who left the captaincy on their own due to poor performance. Would Morgan do this?
KKR i.e. Kolkata Knight Riders replaced Dinesh Karthik in the middle season last year and made Eoin Morgan the captain. This is the mistake that KKR is still suffering from. He had forgotten the 10-year-old performance of the IPL, stunned by the glamor of the world-winning captain. The KKR management forgot that Morgan, who has been playing IPL since 2010, is one of the biggest flops of this T20 league. KKR forgot that this player gasps even to score 50 runs in IPL. Names big and visions small. This proverb is made for Morgan only in IPL. Morgan has played a total of 78 matches for 5 different teams in IPL so far and has not been able to touch the score of 70 runs even once. (see table).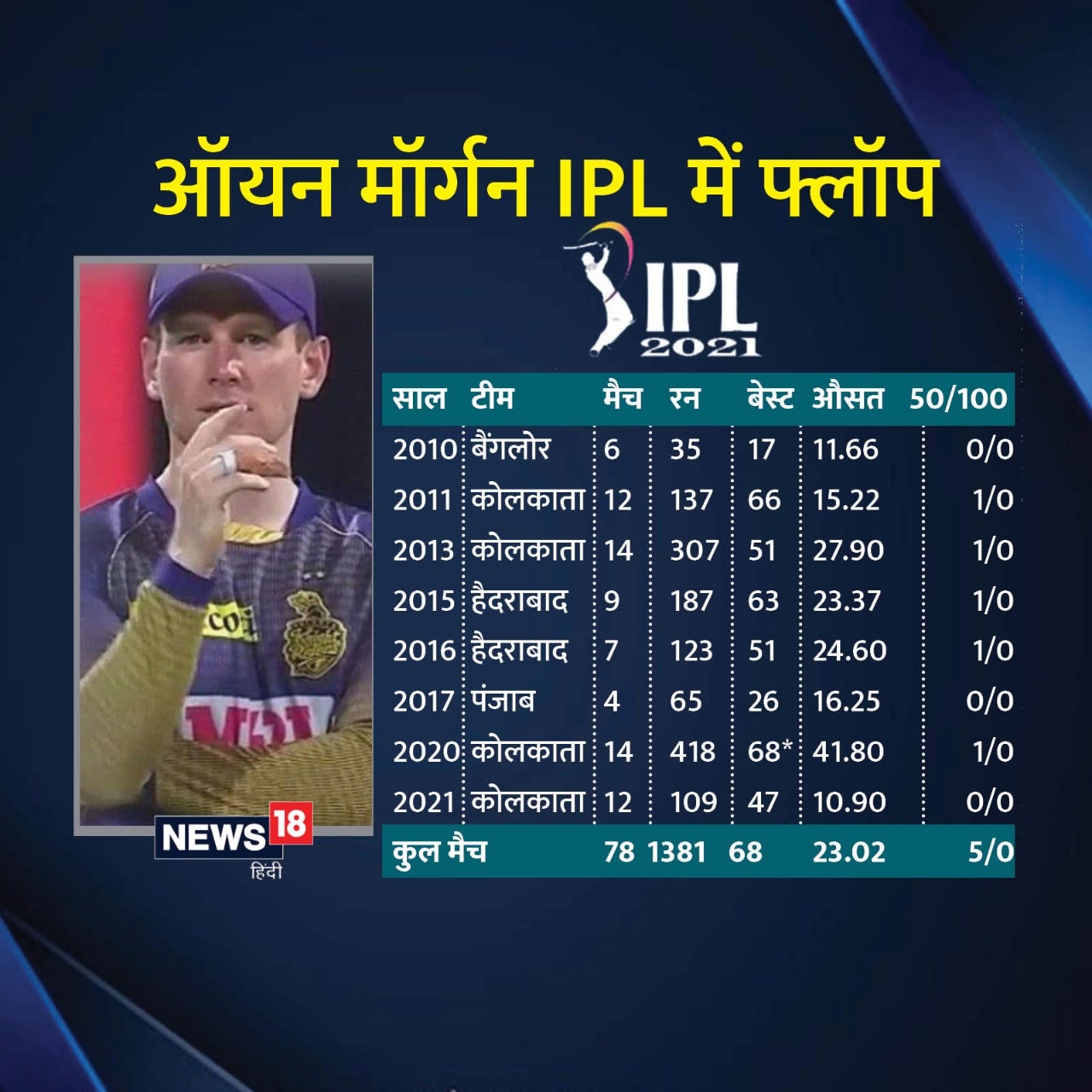 Eoin Morgan
Today on October 3, KKR will be in front of Sunrisers Hyderabad in IPL 2021. This is KKR's 13th match in the current season and do or die. Hyderabad is now out of the race for the playoffs. Because of this, there is no such pressure on him, which is on KKR or other teams in the race for the playoffs. That is, the danger is on KKR. Hyderabad has nothing to lose. Opportunity is left for KKR and they should take a tough decision without waiting for Morgan to return to form.
It is no longer a secret that KKR's weak link is its captain Eoin Morgan. They have failed miserably with the bat. He has been able to score 109 runs in 12 matches in IPL 2021. If a specialist batsman performs like this, then he will be called a burden on the team. It would be better if KKR give Morgan a respectful 'rest' and give another player a chance. This has happened at least 12 times in the history of IPL, when the captain has been changed in the middle. KKR itself has done it. And Morgan is also not a young player on whom the team has to invest for the long term. He is 35 years old. It is better that KKR invest a young man.
There are also questions on Eoin Morgan's decision to choose the playing XI. In the playing XI he brought against Punjab Kings, there were only 4 specialist bowlers. The responsibility of the fifth bowler was imposed on the two batting all-rounders Venkatesh Iyer and Nitish Rana. Interestingly, a specialist bowler was dropped from the playing XI and wicket-keeper batsman Tim Seifert was included. Seeing this, even a simple knowledgeable of cricket understood that the Punjab team would target the overs of Iyer and Rana. That's what happened.
Perhaps this is the right time for KKR to take a big decision. To give respectful rest to Eoin Morgan. Morgan has won the World Cup for England, but it is equally true that he has never been successful in the IPL. This player has participated in IPL for 10 years. During this he played 78 matches and could collect only 5 fifties. That is, Morgan averages one fifty in 15 matches. There are only 14 league matches in a season. With this average, he will score one fifty in two seasons of the IPL. Now it is up to KKR whether she chooses to wait longer or decides on her own in time.
Read Hindi News see more online Live TV News18 Hindi website. Know related to country and abroad and your state, Bollywood, sports world, business News in Hindi.