New Delhi. The matches of T20 World Cup 2021 are to start from October 17. This time the most eye is on Team India. There are 3 reasons for this. First, Virat Kohli will leave the captaincy of the T20 team after the World Cup. Second, former champion captain MS Dhoni has been made the mentor of the team. Third and most importantly, the team has not won the T20 World Cup title since 2007. The team has to play the first match against Pakistan on 24 October. Team India's T20 record is very good. The team has played T20 Internationals from 13 countries, but no team has won more than 50 percent of the matches against India. That is, Team India has been dominating all the opponents. In such a situation, the team under the leadership of Virat Kohli would like to maintain this performance in the World Cup to be held in UAE.
This is the 7th season of the T20 World Cup. The matches of the first tournament were to be played in India, but due to Corona, it was shifted to Oman and UAE. All the Super-12 matches will be held in UAE. Team India will also start its campaign from Super-12 itself. India and Pakistan included in the group have won the T20 World Cup title once each. New Zealand and Afghanistan are waiting for the first title. The decision on 2 other teams will be done after the first round match.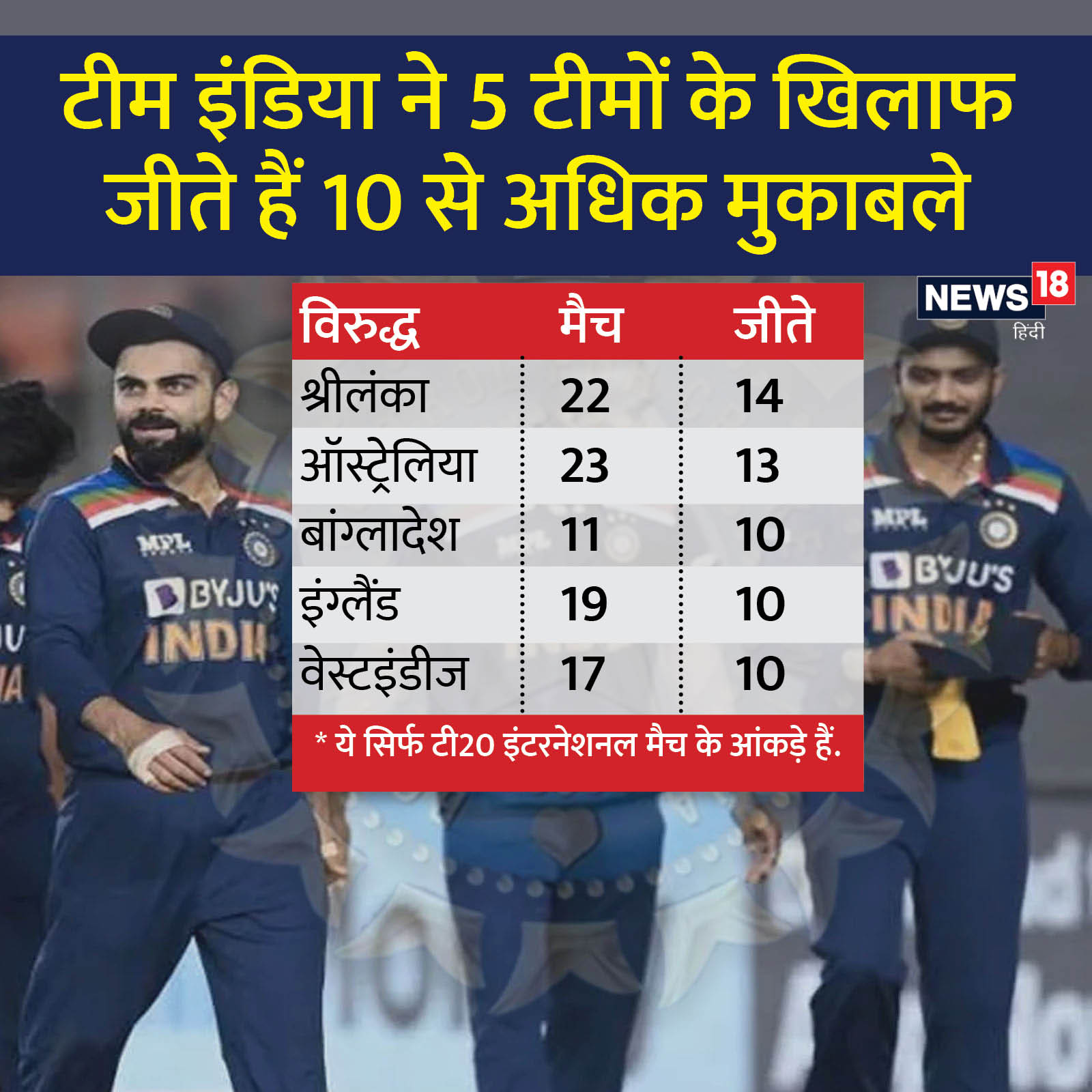 Excellent result against other teams in the group
Team India's performance in T20 against other teams of its group has been very good. So far 8 T20 matches have been played between India and Pakistan. India has won 7 matches, while Pakistan has won only one match. It also includes a tie match. The team has played 16 matches against New Zealand. Both have won 8-8 matches. Team India has won 2 matches after being tied. Apart from this, all 2 matches have been won against Afghanistan.
Most 14 matches won against Sri Lanka
Talking about T20 International, Team India has played at least one match against 13 teams. Team India has won more than 50 percent matches against 11 teams. The record against 2 teams is equal. The team has won the maximum 14 matches against Sri Lanka. Apart from this, the team has also got more wins against Australia, Bangladesh, England, West Indies, South Africa, Pakistan, Zimbabwe, Ireland, Afghanistan and UAE. The record against New Zealand and Scotland is equal. The team has played 16 T20 matches from New Zealand. Both have won 8-8 matches. At the same time, the team has played only one match against Scotland. But this match was canceled due to rain. That is, both of them have not got a single victory so far.
Also read: After T20 World Cup, not only captain Kohli, many players of Team India will change! big news out
Also read: T20 World Cup: Virat Kohli is not out in T20 World Cup against Pakistan till date, won every time
Only 2 teams could win more than 20 matches
Talking about the record of T20 World Cup, so far only 2 teams have won more than 20 matches. Team India is also included in this. Sri Lanka has won the most matches at 22. Team India is at number two with 20 wins. Pakistan has won 19 matches, South Africa has won 18 and West Indies has won 16 matches in the T20 World Cup. Apart from this, Australia has won 16 matches, England and New Zealand have won 15 matches each. No other team has won 10 or more matches.
Read Hindi News see more online Live TV News18 Hindi website. Know related to country and abroad and your state, Bollywood, sports world, business News in Hindi.