New Delhi. The matches of the T20 World Cup (T20 World Cup 2021) are to be held in UAE and Oman. All the Super-12 matches are to be held in UAE. Team India will face Pakistan (India vs Pakistan) in the first match on 24 October. But talking about UAE, Team India has not played a single T20 International match here so far. Its effect can be seen in the World Cup. The matches of the second phase of IPL 2021 are being played here. Even before this, T20 league matches have been held in UAE. On the other hand, if we talk about the other 3 teams of Team India's group, Pakistan, New Zealand and Afghanistan have played T20 International matches here.
Talking about the teams included in Team India's group, Pakistan has played the most matches in the UAE against 36 T20 Internationals. The team won in 21, while losing in 13. At the same time, Afghanistan has played 33 T20 matches. 26 have won, while 7 have lost. At the same time, the New Zealand team has won one T20 out of 7 matches in the UAE, losing in 6. International cricket was not being played in Pakistan after the attack on the Sri Lankan team in 2009. Then the Pakistan team was playing the home match in the UAE itself.
6 out of 15 players have played in ODIs
Six out of 15 players in the T20 World Cup squad have played ODIs in the UAE. It includes Rohit Sharma, KL Rahul, Ravindra Jadeja, Bhuvneshwar Kumar, Jasprit Bumrah and Hardik Pandya. That is, even captain Virat Kohli has not played an international match in the UAE so far. Rohit has scored a century and 2 half-centuries here. Apart from this, KL Rahul has scored a half-century in a match.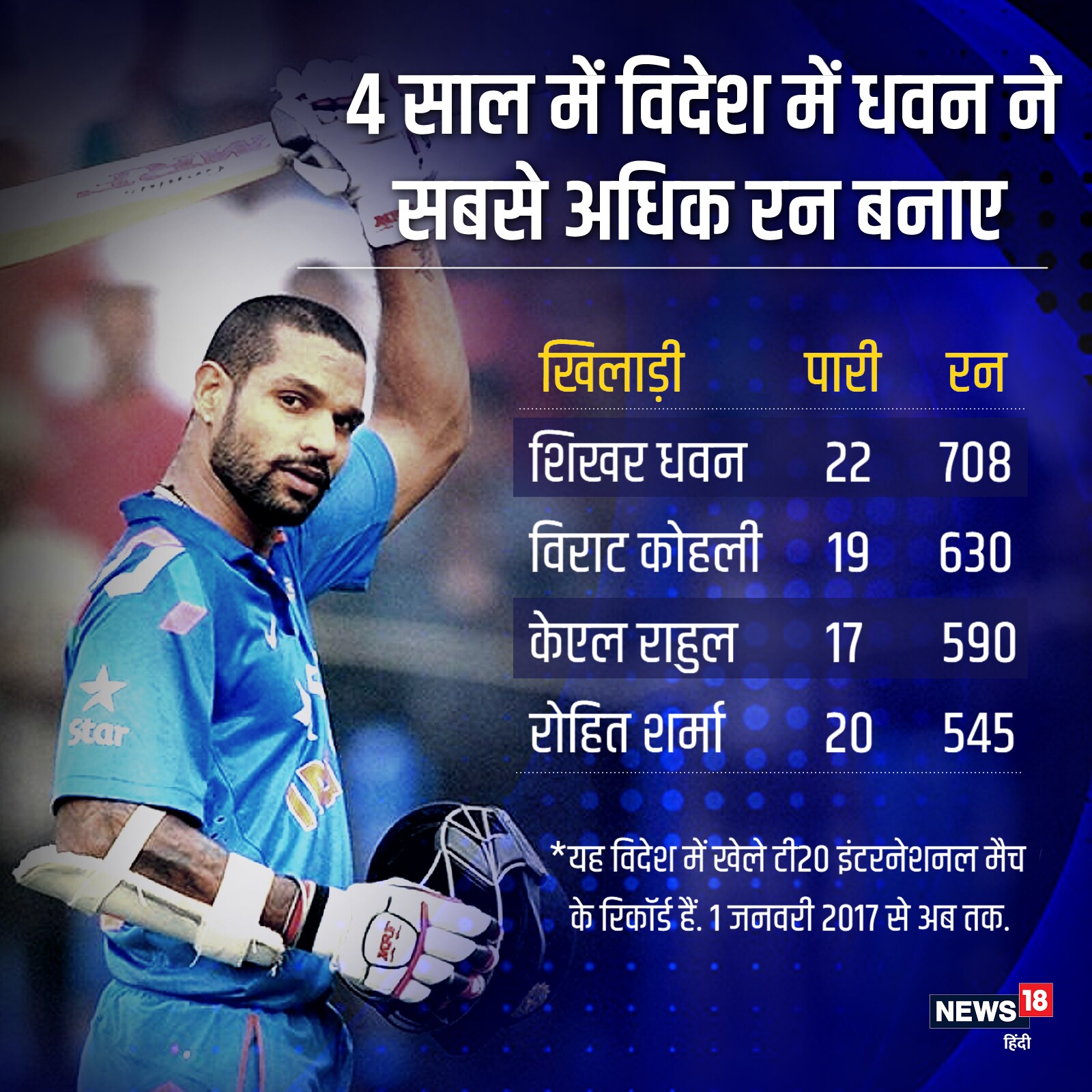 Pakistan won the most matches outside the home
If we look at the record of T20 matches outside the home for the last 4 years i.e. from January 1, 2017, here also Pakistan's team is ahead of India. Pakistan played 38 T20 matches during this period. 19 won, 14 lost. At the same time, Team India played 30 T20 matches outside the house during this period. Won in 17, lost in 10. However, Team India is ahead of Pakistan in terms of average wins. At the same time, New Zealand played 12 T20 matches outside the house during this period. 5 won, 7 lost.
Also read: T20 World Cup: Team India to be announced soon! These players can get a chance with the new jersey
Also read: IPL 2021: 10 players of Team India playing T20 World Cup were out, 4 passes and 6 failed miserably
Highest run scorer out of the team
Talking about the highest run-scorer in T20 outside home since January 1, 2017, Pakistan captain Babar Azam is at number one. During this, he has scored 1128 runs in 27 innings at an average of 45. Has scored 1 century and 10 half-centuries. The strike rate was 131. During this, no other batsman has been able to touch the 1000-run mark. During this period, Shikhar Dhawan scored the highest 708 runs in 22 innings at an average of 32 for India. Scored 5 fifties. During this his strike rate was 144. But they are out of T20 World Cup. At the same time, Kohli scored 630 runs in 19 innings at an average of 37. Scored 4 fifties. Strike rate was 135.
Read Hindi News see more online Live TV News18 Hindi website. Know related to country and abroad and your state, Bollywood, sports world, business News in Hindi.