new Delhi: During the match between Rajasthan Royals and Sunrisers Hyderabad in IPL 2022 on Tuesday, a beautiful woman entered the stadium, whose photos became a sensation on the internet as soon as they went viral. This lady in pink top and white pants became the center of discussion during the match.
The sudden entry of this beautiful woman in the IPL match
Actually, Dhanshree Verma, wife of Rajasthan Royals' star leg-spinner Yuzvendra Chahal, reached to cheer him during the match. Dhanashree Verma was looking very beautiful in a pink top and white pants. During the match, Yuzvendra Chahal's wife Dhanshree Verma was imprisoned while taking a selfie. Dhanashree often appears at the stadium to cheer for husband Yuzvendra Chahal. Dhanashree, a choreographer by profession, is quite popular on social media.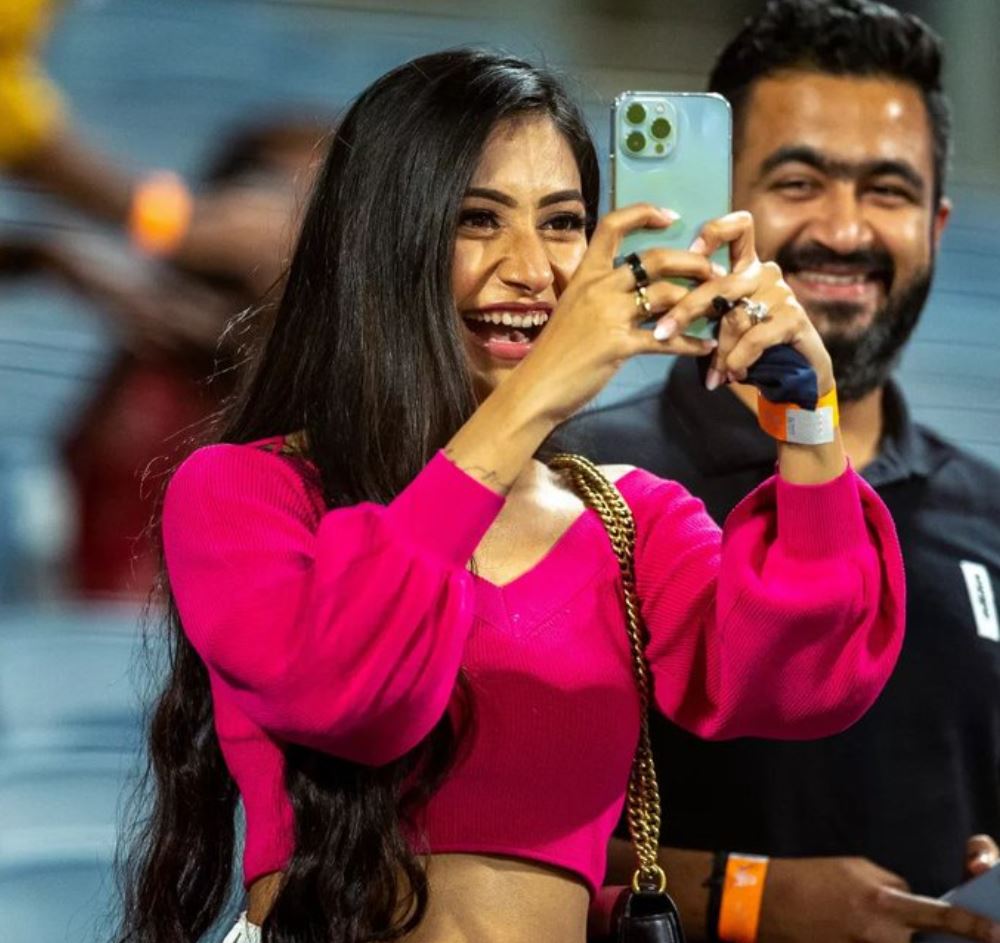 Beautiful style robbed the heart of the fans
Yuzvendra Chahal's wife Dhanashree Verma looked very cool in a pink top and white pants. Rajasthan Royals shared Dhanshree's photo on their official Twitter handle, in which she was seen taking a selfie. Yuzvendra Chahal took three wickets in the match against Sunrisers Hyderabad, spending 22 runs in his quota of 4 overs. Chahal showed the way to the pavilion to openers Abhishek Sharma, Abdul Samad and Romario Shepherd. When Chahal was taking the wicket, Dhanshree was encouraging her husband by clapping while standing in his place.
very famous on social media
Dhanshree Verma is quite famous on social media. She keeps sharing her videos and photos on social media from time to time, which fans like very much. Team India's experienced bowler Chahal is playing for Rajasthan for the first time in IPL. Last season Chahal played for Royal Challengers Bangalore. RCB did not retain Chahal in the IPL 2022 Mega Auction.
Dhanshree is a hip-hop dancer
Dhanshree Verma has a YouTube channel (Dhanshree Verma YouTube Channel) related to dance, this channel has 2.59 million subscribers. Dhanshree recreates Bollywood songs. Apart from this, she also gives hip-hop training. She also uploads videos of her dance academy on this YouTube channel. Dhanashree has studied from DY Patil Dental College Navi Mumbai in the year 2014.
Chahal-Dhanshree got married in December 2020
Cricketer Yuzvendra Chahal and his wife Dhanashree Verma are a very popular couple. He often shares his beautiful photos and videos with his fans. Yuzvendra Chahal and Dhanashree got married last year in December 2020.